Flower wallpaper has been around for the longest we can remember. No wonder why people call it vintage. No corner of the globe is unaware of flowery wallpaper; it is one of those goods whose relevance and dominance we cannot ignore.
Flower wallpapers became well-known and famous throughout the medieval period when Italy was the birthplace of that product, as well as other items like flower tiles and mosaics. Countries were competing with each other in creating new flower-patterned wallpaper, and well why wouldn't they? Flower wallpaper is so aesthetic.
In civilizations worldwide, the flower is a sign of knowledge, fertility, and life. People worldwide use flowery wallpaper to bring pleasure and wealth into their houses. Furthermore, it has become an object of aesthetic delight in all places where it is used in home decors.
Flower wallpaper
Flower wallpaper conveys a message that speaks of romance, aestheticism, and a natural esprit. Flower motifs are delicate and refined design components that work well in various styles and settings. Whether you choose the modern or rustic style.
Wallpaper with flower and bloom designs is a highly versatile tool for creating a fantastic mood. Depending on the model, it may be fashionable, fun, fascinating, or natural. Flower wallpaper is not only appropriate for almost every room in a private house, but it also creates a lovely atmosphere and decor piece in hotels, restaurants and shops.
Which rooms are best suited to flower wallpaper patterns?
Flower wallpaper may provide a touch of elegance to any area in your house. From nursery to kitchen, living room to bedroom, bathroom to the corridor, there are various acceptable flower patterns.
Bedroom: Flower patterns are among the most popular bedroom wallpaper designs. They can produce a genuine boudoir environment as well as a refined atmosphere. A dark backdrop lends a profound and magical vibe to the blossoms, exuding richness and elegance. Furthermore, meadow flowers are an excellent method to give natural freshness to a place.
Hallway: Flower wallpapers look great in hallways and stairwells. Darker and larger-scale flower motifs are an alternative for larger spaces. Lighter and smaller designs are more suited to narrower and darker passageways. The final selections are determined by individual styles and/or personal preferences.
Living room: The living room is not just a unique place; it is also utilized for entertainment. As a result, the selections for flowery wallpaper might be a little bold, opulent, and expensive. Flower-power retro wall backgrounds wallpaper or a pure and modern floral motif is also an excellent possibility. It's all about the impact.
Nursery or children's room: Flower decors, as delicate and soft as a newborn infant, offer nurseries a welcoming and domestic air. Motifs in pastel colors are an excellent choice for the new arrival since they offer a relaxing impact. Soft and fun flower motifs are widespread in children's rooms. They are frequently accompanied by additional components, such as birds or mythical creatures.
If you notice, flower wallpaper is popular as ever, and why do they never run out of the market? Want to know why? Let's dig in
Why flower wallpaper is so popular, and why do they never go out of style?
Let's be honest, but flower wallpaper is going to stay. Let us tell you why?
Art for the walls: Flowers have always been a popular subject for home decor. They immortalize them in an enthralling still life or create their own versions of them. Floral wallpaper is large-scale wall art that may elicit good feelings during tranquility and tranquility. Last, floral wall decor is far less expensive than the original paintings.
Bringing the garden indoors:Fresh flowers in the home were not always a common practice throughout all time and style epochs. Even the personal garden, if accessible, would frequently be devoid of attractive flowers. Instead, flowers were incorporated into the home in paintings, sketches, and murals. Flower wallpaper now serves the same purpose: it transports one to the most beautiful gardens.
A popular interior decor option:Flowers and flower wallpaper murals are still popular for interior decor, whether in the bedroom, living room, or public places like cafe;s and restaurants. As we already mentioned, they have the power to offer you pleasure, luck, and prosperity in your house. Flower wall paintings are pretty adaptable.
Flower wallpapers are often used on tiny surfaces, but they do not lose their influence when applied to large spaces; on the contrary, floral wallpaper helps us relax and quiet down even when people are gathered.
How it will assist you in transforming your house into an attractive and beautiful location?
Is your house comfortable to live in? Homes foster acceptance and love by being caring, quiet, soothing, and tranquil. People are constantly eager to beat the evening traffic and hurry home to decompress and relax. These are our safe havens, and they should feel like it. So, how can you make your house even more welcoming, not just for you but also for your guests? It's all owing to the flower wallpapers, which are both vintage and aesthetic.
It calms you: Having flowers wallpaper in your house is like being in nature. It helps you anchor yourself in optimism and potential by releasing negative energy. But we can't all cultivate plants in our houses because of allergies, maintenance, and other factors - and this is why keeping plants in the home is essential.
We may be unable to grow the flowers we desire because of our environment. Furthermore, we may not be able to cultivate the plants we desire. Flower wallpaper does not require you to water it or provide six hours of sunlight every week. Instead, glue it to the wall and let it emit a soothing aura throughout your house.
Uplifts your entire mood: People believe exposure to colorful themes decreases the likelihood of feeling angry or upset. Installing flowery wallpaper might be the first step in making your house pleasant. It all comes back to the relaxing nature of the flowers, which make you feel at ease in a setting.
Adding color to your home and life: Our spaces might sometimes seem dull and unappealing. Perhaps you were too concerned about the crowded space, and it ended up feeling boring. Is it possible to replace this with flowery patterns? Sure! Flowers have a feminine appeal that lends color to any area. Just one piece of paper is enough to make the space feel brighter and warmer, and it might be just what you need to start your creative juices flowing.
It goes well with your accessories: Aside from its psychological impact, can flowery wallpaper accomplish anything else for your space? Of course! Assume you've previously designed a room around a theme. Other wallpapers make it tough to choose what would complement the current decor.
That is not the case with flower themes. Almost any flowery wallpaper would look good in a space. Instead, it merges in with the existing fixtures. Add to that the fact that there are many themes on the market, and you should have no trouble picking the appropriate one for your area.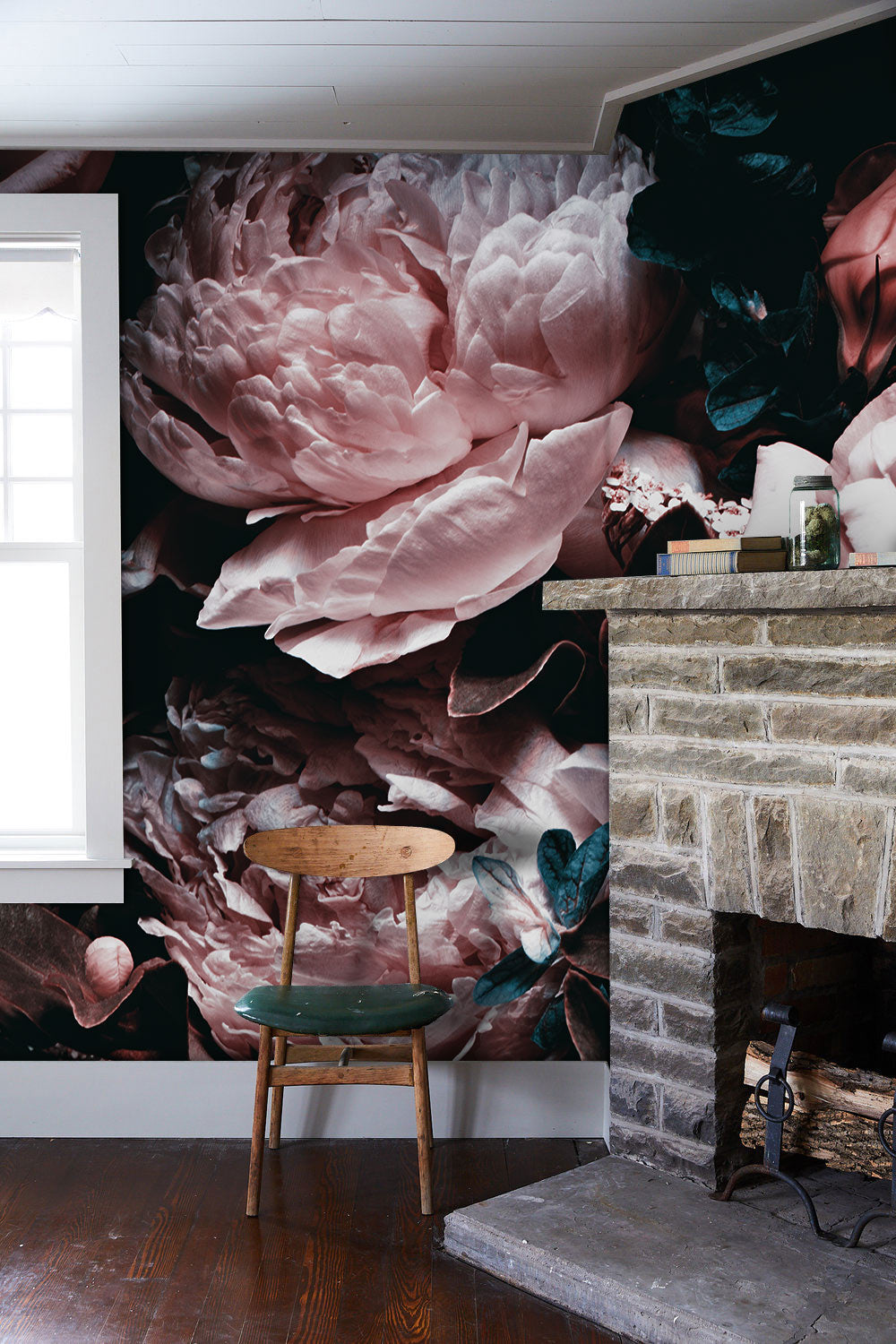 Large Floral Wallpaper
Large blooms allow you to decorate your walls with lovely flowers. A black backdrop with pink blossoms completes the aesthetic effect without requiring any effort.
Create a beautiful, elegant space in your home with our beautiful pink floral wallpaper mural. This dark floral wallpaper design creates a vintage look with its large rose illustrations which are toned and saturated in color for a sophisticated feel. If you have your heart set on a dark floral wall mural for a room in your home, this charming floral design will allow you to have a dark wall that is classical and neutral rather than overpowering.
Shop Now
Blue Enchantress with Pearl
This flower wall mural will look great in your bathroom, bedroom, dining room, living room, home office, and hallway. This wallpaper mural of white and gray flowers gives a 3D vintage image toned in beautiful blue ink color for a refined ombre impression.
With our gorgeous wallpaper mural, you may create a classy atmosphere in your house. This wallpaper mural of white and grey flowers gives off vintage appearance and is toned and saturated in blue ink for a chic ombre effect. Don't miss it if you enjoy flowers!
Flowers in Dark
Its vast rose images toned in pastels for a classy vibe with a black background is the whole feel. This flower design will enable you to create a black wall that is traditional and neutral rather than dominating. Who doesn't love a hint of black with pastels?
Your home can be transformed with our stunning purple, pink, and black floral wallpaper mural. This dark floral wallpaper design creates a vintage look with large rose illustrations that are toned and saturated in color. In order to create a dark floral wall mural for a specific room in your home, you can use this charming floral design.
Shop Now
Golden Vintage Flowers Wallpaper
An eye-catching antique floral wallpaper mural. The bewitching themes of flowers in gold accents, replete with intricacies on the petals, make it a delight to see. With its consummate refinement, you may add a bit of glitz to your living area.
The spellbinding motifs of flower in gold accents, complete with the details on the petals, make it a sight to behold. Decorate your living room with this consummate refinement that spells pure luxury. Impress your guests with this masterpiece of a wall mural.
China Rose Wallpaper
Pink China roses on green and blue rose bushes provide an elegant antique impression. Background in ink blue. Make your bedroom and living room more elegant.
Imagine you are in a rose garden, the air is full of sweet smells.The fresh blue background makes the picture more luxurious. Who can say no to a blue rose garden on the wall at home?
Shop Now
Yellow Flower Vines
It has yellow and green spots on an off-white backdrop. This wallpaper is ideal for giving your home a bright, amusing appearance. The spotty design has a vintage feel and will brighten up any area.
Beautiful painting art makes this wallpaper more vivid and elegant, which will creats an atmosphere of inviting. Unique color match and aesthetic design! At the same time, it reflects your taste of fashion.
The Bottom Line
Floral wallpapers are a terrific way to get people's attention when entering a room. Don't be afraid to make a statement with the flower wallpaper aesthetic since this will help you inspire the overall vibe of the area. There are numerous ways to freshen up the ambiance in your house using floral wallpapers.