We all are looking for a stunning home that we can be proud of. And it is just one of the many things that will make you feel proud of your living space and more comfortable in your own home. But, the main thing about attractive interior design is that it involves more than just choosing a comfortable furniture set. It's also about selecting a patterned wallpaper that will give your room an air of sophistication and luxury.
Here, we have come up with a great collection of beautiful and elegant marble wallpapers that will give a perfectly appealing and striking look to the interior design of your home.
How Marble Wallpaper Murals Can Bring Elegance To Your Home Design?
Walls are an important part of your home's décor and design. They can be used to create a sense of roominess or be applied as a backdrop for other elements in your space. If you want to add more elegance and beauty to your home, try using marble wallpaper murals.
Marble wallpapers are a perfect finishing touch for any stylish home interior and a trendy way to make some pizzazz to your home design. These sophisticated patterns provide a special character to your walls and can create an elegant impression in your home, office, and even business areas.
Here are some reasons why marble wallpaper is such a great choice for anyone looking for ways to add elegance and sophistication to their home:
1.It gives your space a refined look that will make people wonder what they're seeing when they walk in. Its beautiful colors and patterns will definitely draw attention while the rich texture it possesses can make your place look naturally expensive and classy.
2.You don't have to worry about being too loud or too quiet when using this design because marble wallpaper is neutral in tone so it doesn't matter if you choose bright colors or earth tones. It complements other colors well and it will work with whatever decorating scheme you have going on at the time!
3.With its unique and delicate appearance, marble wallpapers are sure to stand out from the crowd. It can also be an excellent way to transform an old room into something new and exciting, making it easier for you to create an overall cohesive look for your home.
4.It's easy to work with. It doesn't require any special tools or skills for installation, so you don't need to worry about hiring someone else to do it!
5.You can choose from a wide variety of different patterns and colors when it comes to getting marble wallpaper installed in your home. This will allow you to find something that works well with both the rest of your décor and the architecture of your home design.
Marble wallpapers are notable for making a home space look graceful and delicate, creating a luxurious impression. It has distinctive elements with a modernist and timeless appearance and a classic feel to it. Plus, a wide variety of designs ensure each room can have a unique look and feel. You may eventually begin to see all how marble wallpaper can make your home more beautiful and lively in no time!
6 Gorgeous Patterns for Elegant Marble Walls in Your Living Space
There are so many different ways that you can use marble wallpapers in your home. This classic style is aesthetically pleasing and easy on the eyes while still maintaining its sleek and sophisticated look. From looking for vintage stripes or something more modern, there's sure to be something that fits the bill for you!
And if you're not sure about how exactly you want to go about choosing a pattern or color scheme for your new wallpaper, we've got some ideas on how to make the process easier while helping you inspire all kinds of creativity in your living space.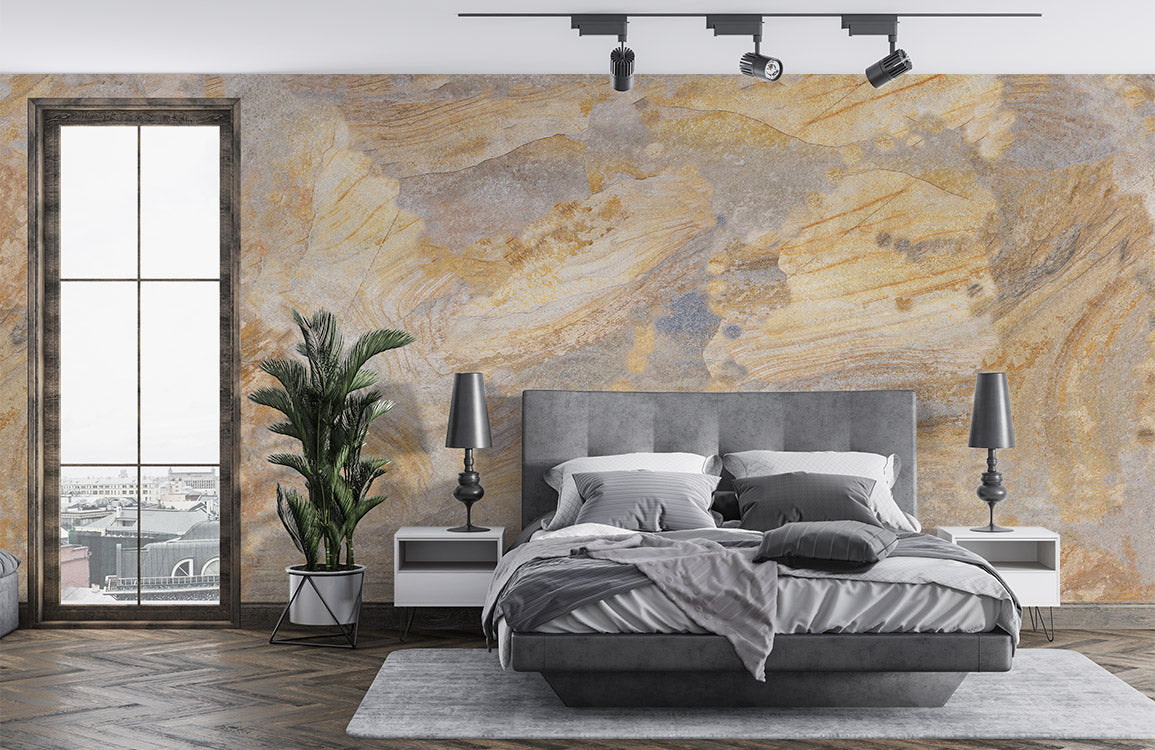 #1: Brownish Marble
This marble effect wallpaper is made up of brownish tones with a subtle yellow tint. These colors are perfect for bringing elegance to your home because they make you feel like you're in a warm, cozy environment. The brownish color of this wall mural is also ideal for creating an atmosphere of comfort and peace since the brown hue is known for giving off rthy yet calming vibes to a room. It will be a great addition to any living room, dining room, or bedroom and will be a perfect complement to any interior design style.
Shop Now
#2: Colorful Swirl
Swirling and glimmering swirls of color are the best compliment to your home! This multi-colored wallpaper mural is not just a showstopping addition to any room in your home, but it is also a marble wallpaper that is sure to make you feel like you are living in a palace. Suitable for both interior and exterior applications, this versatile wall decor can be applied to any wall in your house, but they are especially popular in living rooms and bathrooms because of their naturally inviting image. It has a smooth finish and is made of 100% premium quality materials that are manufactured by using high-quality raw materials.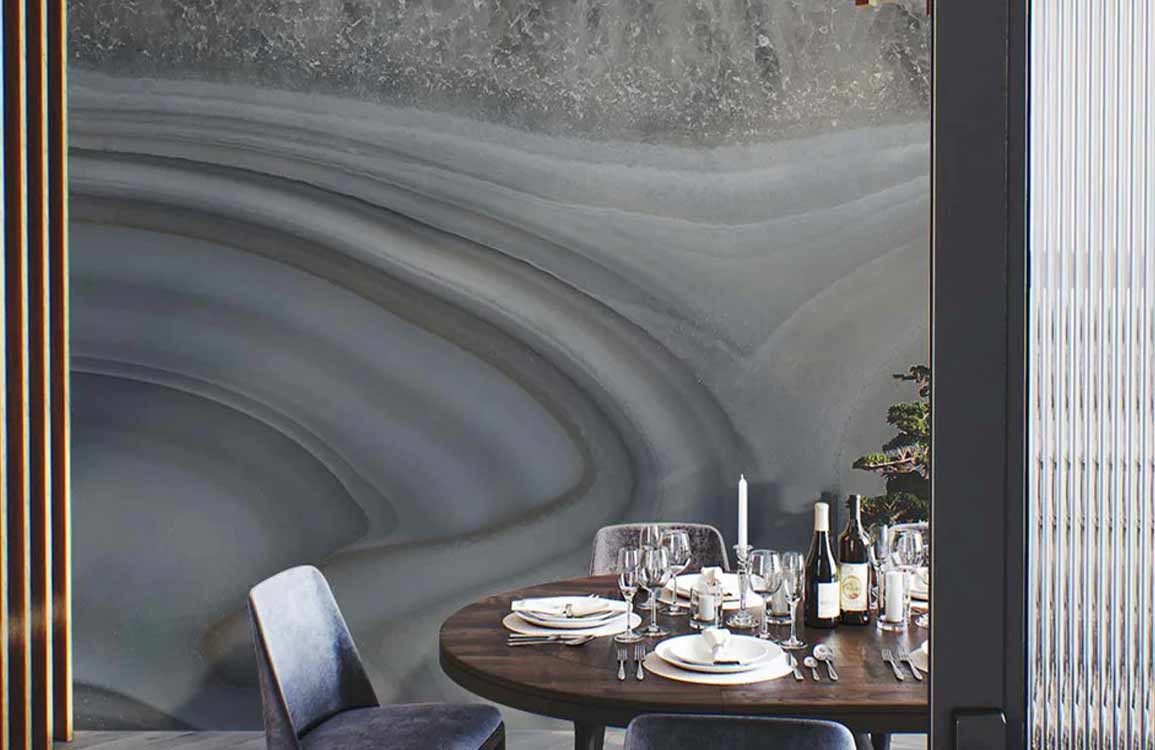 #3: Ripple Gray Marble
The classic marble wallpaper is back in a big way! With its modern, abstract pattern, and striking color, it's a great choice for any home. The gray color gives the wall a clean, chic finish. It looks great in any room but is especially suitable for living rooms and bedrooms. Its soft and neutral tone is ideal for making a home feel fresh so there's bound to be something that will suit your taste perfectly! The main part is that it can be used on walls or ceilings, making it an easy way to bring a little extra flair into your living space.
Shop Now
#4: Mixed Marble
The magnificent combination of colors, textures, and patterns make this geometric wall mural stand out in any room. This is a beautiful piece of artwork that will make your house look more classy and glamorous. The mix of light and dark colors throughout the design gives it a very warm and diverse feeling. This is an excellent choice for people who are looking for something different than the usual wallpapers available on the market today. With its ability to add some visual interest to any space, you can liven up your wall without having to spend too much money on decorating materials or hiring someone else to do it for you.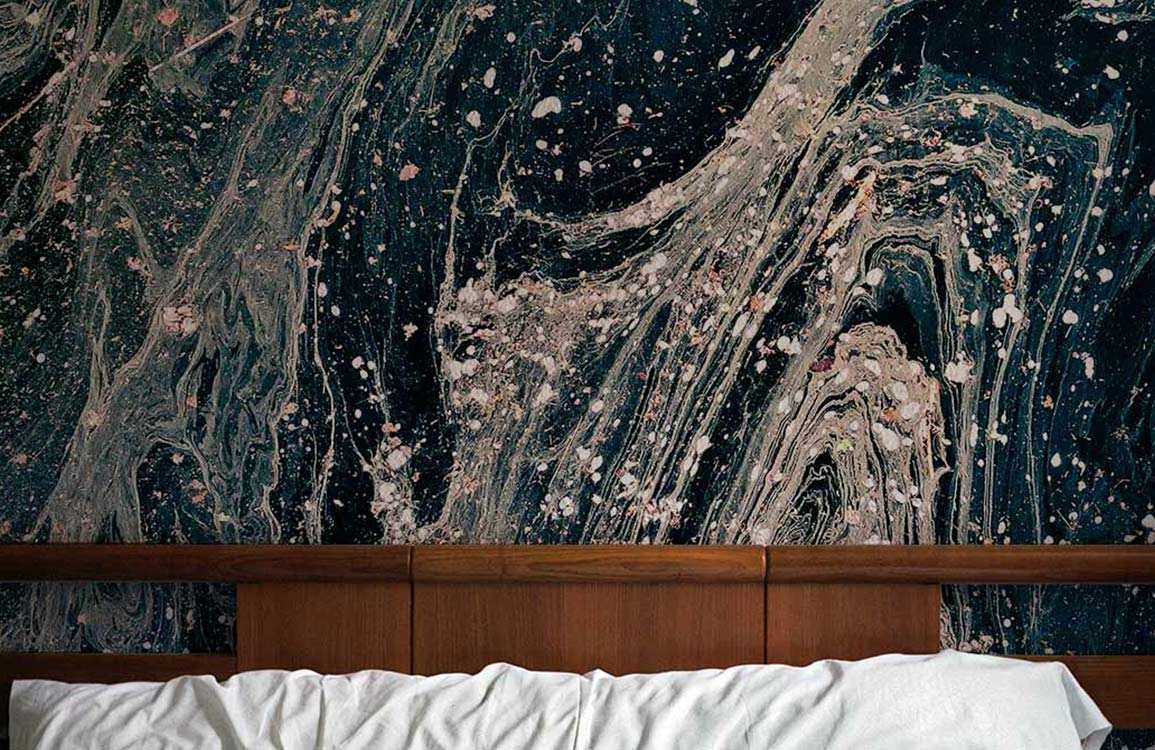 #5: Abstract Blue Marble
An excellent choice for both contemporary and traditional interior decors, this abstract wall mural is designed for those who want to let the beauty of their walls speak for themselves. It is made from a realistically-looking marble pattern that has a natural sheen and depth, adding an alluring view to any place. The muted tones of this blue wallpaper and its subtle layout will look great on any wall in the house. The pattern blends seamlessly with the existing decor in your house, but it is also sure to add a modern drama to more trendy spaces.
Shop Now
#6: Purple and Gold Marble
Do you want a wall that will produce a touch of luxury, but you don't want the look to be overwhelming? This purple and gold mosaic marble design is perfect for your abode! The color scheme created from the rightful mix of the vibrant purple background and rich gold accents adds a touch of exclusive grandeur and makes your space feel more refined. It's an easy way to bring a little extra style into your living space, without having to spend too much time or money on it! You can apply this marble pattern in your hallway, bedroom, and even kitchen as long as it fits your home design theme.
Though the idea of marble wallpaper might sound like a lofty undertaking, it's actually easier to style than you might think. With the right accessories, the marble obsession can add a gorgeous focal point to your living space. And with the interior design always evolving and transforming, there's no time like the present to try out a new look!
How to get the most out of your home interior design without breaking the bank?
It's never been easier to make your home look like a million bucks. With the right materials and DIY techniques, you can add a ton of personality to your space in less than an hour. And with a little inspiration from our guide, you'll be able to do it yourself!
Here are some of our favorite tips for making home interior design on the cheap edition:
Use natural materials. If you have an existing space that's not really working for you, try using natural materials like wood, stone, and tile instead of synthetic ones. These will give your home a more earthy feel while still letting light shine through!
Go bold with color. The key to getting creative when it comes down to decorating is finding inspiration in nature—from plants to flowers to leaves and everything in between. Using bold colors like turquoise or purple can help bring life into any room.
Add texture and pattern with accessories like pillows or blankets that complement your decor style.You're going to live in that space for at least a couple of decades, so it's important to make sure that you have a beautiful place—and the best way to do that is by choosing the right decorations suitable to your theme.
Make Your Royalty Dreams Come to Life With Marble Wallpapers
Marble is a classic interior design trend that can provide stunning extravagance and prosperity to your house. Being a favorite material of many royalty lovers, marble wallpapers can bring a little of the "royal touch" to any home. Considered an old-world classic, marble is timeless. However, a natural rock material still tends to be quite expensive.
Luckily, we now have some affordable options in marble wallpapers that allow you to get that luxurious effect you're looking for without worrying about the cost. So, if you've been dreaming of decorating your house in marble but don't have the budget for real marble tiles, consider these affordable and fashionable alternatives. The use of it in wallpaper makes for a very affordable, do-it-yourself upgrade. And with the help of the given tips and guide, you'll be on your way to making your dream royalty interior come to life and with a lot less stress than you may have thought possible!