What's the one thing that makes a house feel like a home? Joy.
It's the happiness that you feel when you're inside your house. But, it all starts with understanding what brings you joy. Joy is about being connected to the people, activities, and things that matter most to you.
Bound to create a plan of action around that vision, you are the only person who can make your home joyful. Decorating your home comes with it.
There is nothing more beautiful than a home filled with amazing artwork, and it can take many forms. The same is true when it comes to home decorations. Wallpaper plays a vital role in adding depth and dimension to a room or space. There are plenty of reasons why people choose to decorate their homes with beautiful wallpaper designs and patterns. One of which is the fulfillment you feel from knowing you live in a place that you love.
Your home should be your sanctuary. To get you started, here are some of the popular aesthetic design trends in home decoration that you should know of.
Popular Aesthetic Wallpaper Design Trends
While the home wallpaper aesthetic design trend is still in its infancy, it's already on the rise. The growth of this style has been helped by a new generation of designers who are creating custom wallpapers to suit the needs of the modern home.
Aesthetic wallpaper designs are becoming increasingly popular because they add a fresh and exciting element to your home interior. These wallpaper designs can be used in virtually any space, from bedrooms and bathrooms to living rooms and hallways. Aesthetics are also perfect for dorms as well as offices where you want to create an office-like feel without having to go through all of the hassles of painting walls or buying expensive furniture.
The best part about aesthetic wallpapers is that they don't have to be expensive or complicated to install. They're easy to apply, they last longer than most other wallpapers, and they look great once they're up!
Retro florals are often considered to be the '80s revival style of wallpaper. The cool and modern look of this design has taken off over the last few years, especially in the USA where it is becoming increasingly popular.
The combination of flower patterns, bright appearance, and vibrant colors make this style such an eye-catching option for any room - whether you choose to go traditional or modern with your choice of color palette, there will be something for you!
It gives the illusion of being antique with its vintage look and rugged charm and also makes an amazing addition to any space that needs some zing! The best part about this is that it can be used in so many different ways by adding new patterns now and then to keep things interesting.
Geometric prints are all the rage in home design these days. They're a fun way to add a little zest to any room, but they can also be used as a creative backdrop for photos and art projects.
This design has been around since the early 1900s when they were used as wallpaper in hotels and other public spaces. In recent years, geometric patterns have made a comeback as a popular home wallpaper aesthetic design trend. You can choose from many different designs including triangles, circles, rectangles, and more.
You will find that geometric prints add a sense of sophistication to your home decorating style without being too obvious about it. It is also perfect for creating a modern look that's both stylish and timeless. You can use geometric prints on walls and ceilings or use them as accessories in rooms like bedrooms or dining rooms.
Chinoiserie designs are characterized by the use of rich colors, ornate patterns, and figurative elements. It is typically found in 19th-century French and English interior design and can be seen in contemporary homes and historic structures.
This design is influenced by Chinese culture, specifically porcelain, lacquerware, and fine ceramics. The name chinoiserie comes from the French word for "Chinese," and is often used to describe objects made in China or its colonies during this period.
These modern interpretations are more subdued than their more ornate forefathers, but still retain their original style and charm by using colors derived from nature such as green, gold, or brown. It was also used in architecture, furniture, and other decorative arts like wallpapers.
You'll find these patterns everywhere — from bedrooms and living rooms to nurseries and offices. If you're looking for something traditional but still fresh-looking, the Chinoiserie layout can be a great option for your home's decorating needs.
4. Faux Marble and Granite
Faux marble and granite are two of the best-loved materials for interior design. Both provide a luxurious look that can be used in many different ways and is versatile enough to adapt to any décor.
Faux marble is a product made from concrete and stone dust that resembles real marble. It is often used in kitchen countertops and bathroom vanities. Meanwhile, faux granite is made with a mix of recycled glass, rock dust, and cement. The resulting material has a grainy texture that looks like stone but is much cheaper and easier to install than real stone.
The faux marble and granite wallpapers come in a variety of colors that can be mixed to create different looks. There are several different types available, including black and white, gray, cream, and red.
These wallpapers are a great way to add texture and color to your home, especially for those who have white walls. The faux marble and granite wallpapers look realistic and can be used in any room of the house. If you have an area where there is no natural stone available but you still want something similar, then these patterns may be just what you're looking for!
The boho style was created by hippies and hippie-chic in the 1960s, but it has evolved over the years. Today, boho decor is a combination of various elements such as country, nature, tribal, and bohemian styles. This is usually used by young people who are inspired by the past but still want to create their unique style.
Boho is all about using natural materials like wood and stone to create a warm ambiance. It looks great on the walls, giving the room an earthy feel while still maintaining its modern nature. The bold colors and patterns used in boho decor are meant to bring out the bright side of life! It is a great choice for those who love the decoupage look and the rustic style. You can use it as wall art, or even as a pattern for your walls, ceilings, floors, and furniture.
Simple yet elegant at the same time, this is perfect for any home or apartment that needs some new inspiration. It is also very affordable because it doesn't need much money to buy or maintain it!
The popularity of home wallpaper aesthetic designs is increasing rapidly, especially in the last few years. The reason is simple: everyone wants to live a comfortable and beautiful life. We all have a dream to build our own house, but we do not know how to do it.
By choosing one from this list, you can get ideas about how you can use them for your house decoration.
Must-Try Wallpapers You Should Check-Out
Here are some popular wallpapers that you can use in your home for all seasons: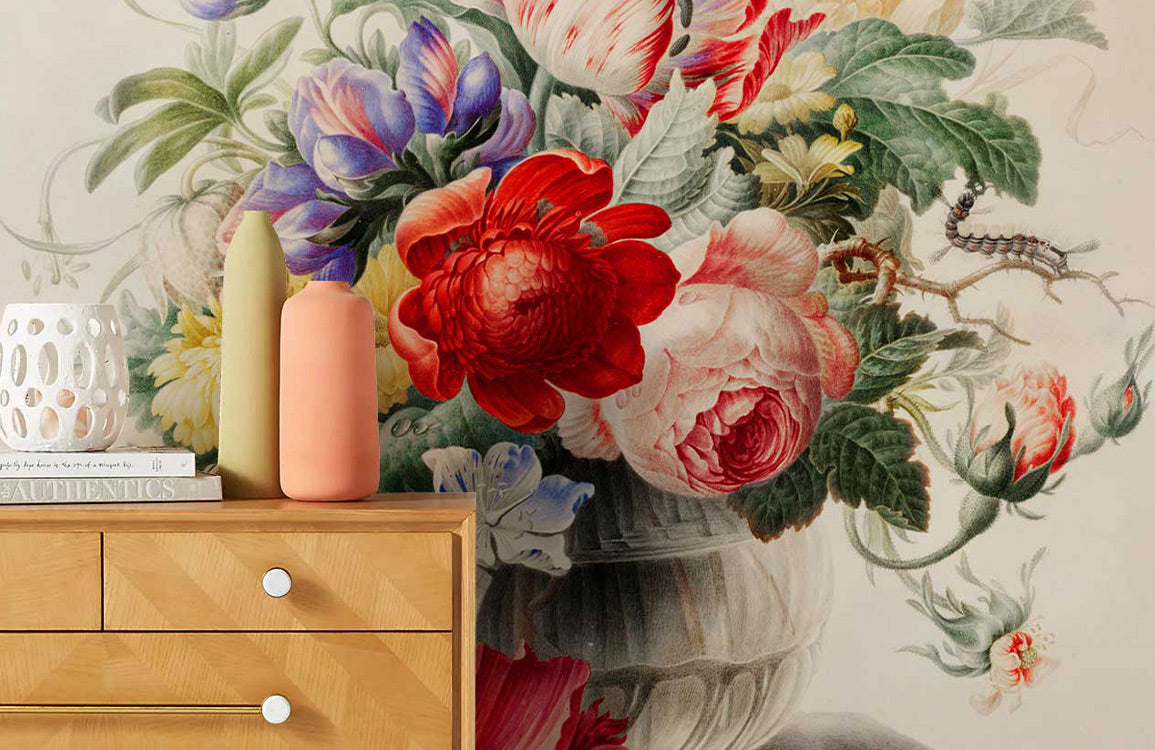 #1: Flowers in Glass Vase
This flower wallpaper can be a beautiful and relaxing way to add a splash of color to your home. It's a classic look that fits into just about any decorating scheme and it's easy to put together. The appeal of this multi-colored wallpaper is that it has a wide range of versatility. You can use it in a room that's formal or casual, feminine or masculine, traditional or contemporary, urban or rural. You can go bold with a bright color palette or you can use soft colors with pastel accents. The wallpaper is often used in kitchens, living rooms, bedrooms, and other spaces that are designed to be modern and colorful.
Shop Now
#2: Dreamy Pine Forest
Dreamy wallpapers lie in their simplicity and classic nature. With this pastel wallpaper with dreamy colors, you can imagine yourself sitting by a window gazing out at the beautiful pine forest surrounding you, or perhaps even picking them yourself! This forest wallpaper works well in any room where you want to add a touch of elegance and class, whether it's in your bedroom, living room, or even on windows! They're especially great for creating interest in blank walls or backsplashes, where they can make the space come alive with color and pattern.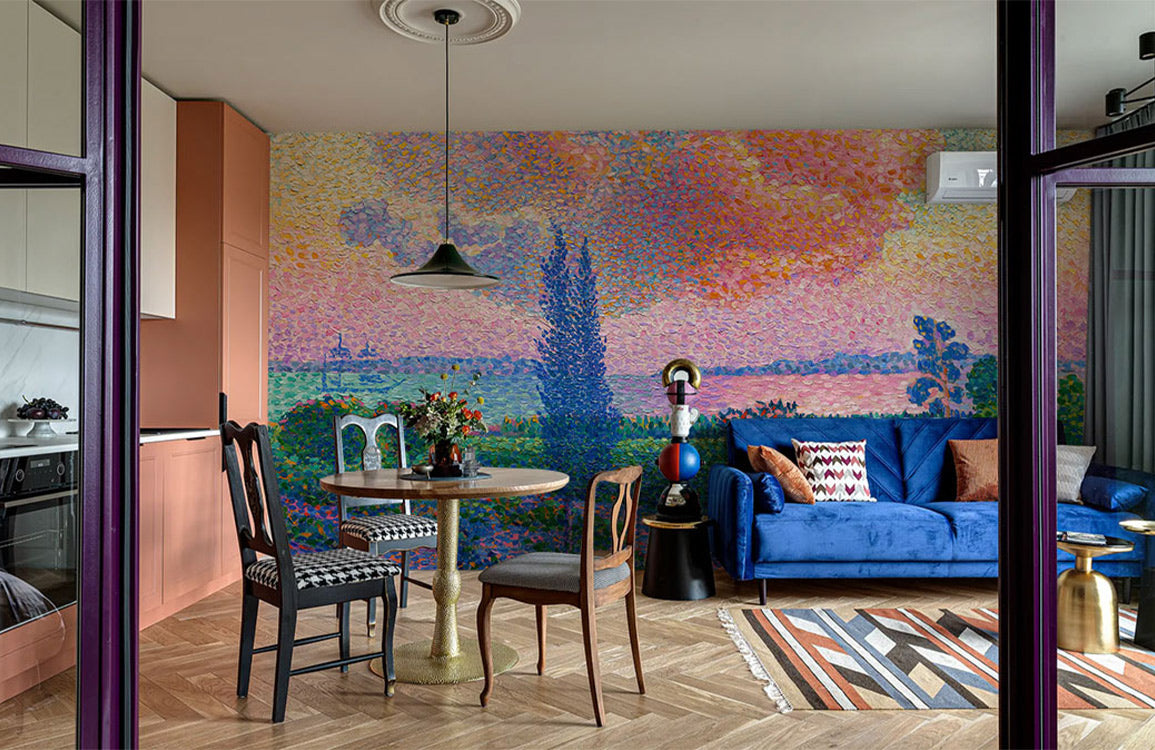 #3: Texture Painting View
This art deco wallpaper makes an excellent choice for your walls. The oil-painting effect on this layout will give your room a fresh new look without making it seem too modern or industrial. With the image that looks like an old painting on canvas, you can use this landscape wallpaper to create a stylish bedroom décor or a family room decoration. You can get creative with this design by adding different colors or patterns or even making your text to create an interesting piece of artwork that fits any space in your home perfectly!
Shop Now
#4: Marble Reflection
Marble wallpapers come in many different colors and patterns that mimic real marbles found outdoors on building sites or landscape features. It is a softer material than natural stone, which means it can be used to create large-scale wall murals or intricate patterns on smaller walls. With its rugged and aged look, you can create a space following an elegant industrial feel that is unique to modern homes. The dark marble design is often used as an accent wall because it looks like real stones. But it can also be applied as the main backdrop for your walls and ceilings in bedrooms, living rooms, and study areas.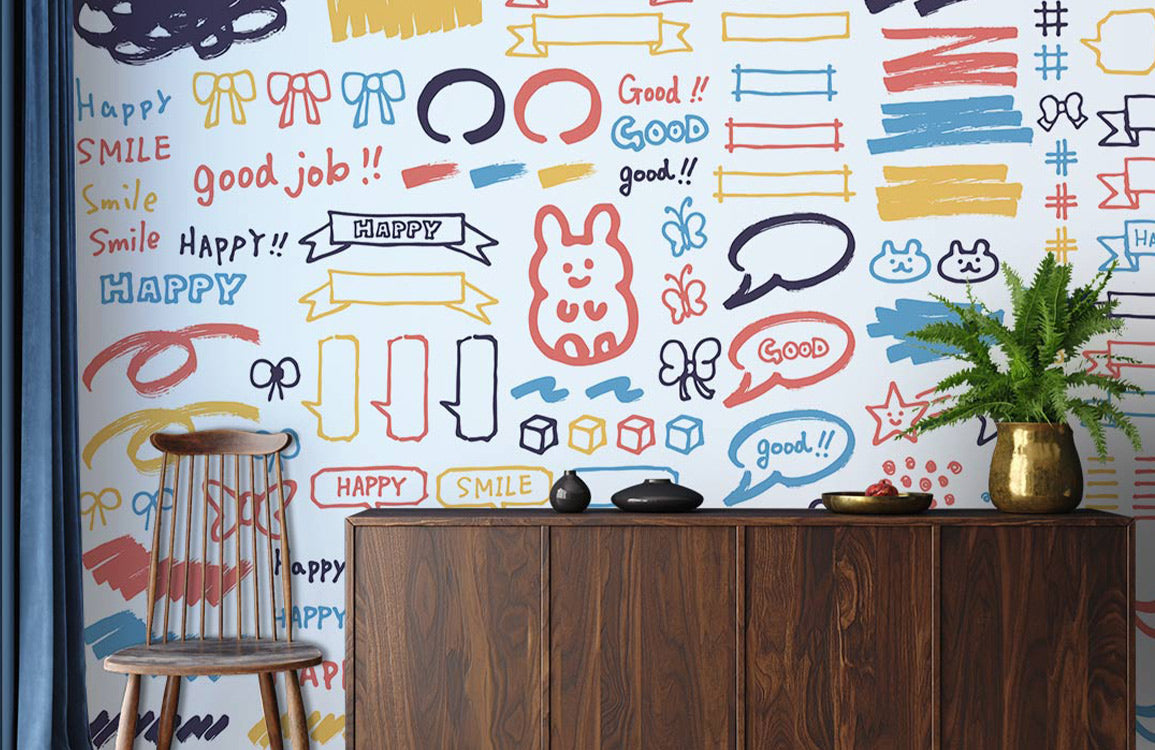 #5: Cute Colorful Graffiti
Colorful graffiti wallpapers combine style and color for an eye-catching look. This design is perfect for those who want to add some personality to their space and make it look messy yet cool. This pattern is commonly popular among teens and young adults because they are already capable of designing their space that will fit the untidy and unorganized aesthetic of this street style design. You can use this artistic wallpaper for bedrooms, living rooms, kids' rooms, or playrooms. Most graffiti layouts are not harmonious with each other, so ensure to create a sense of unity and order in your living space.
Shop Now
#6: Dreamy Sunset
Sunset is like a lullaby that soothes your soul and sets it free to relax. But this feeling isn't just reserved for sunset. It can also be enjoyed at any time of day. If you want to set the tone of your home with the soothing feel of a sunset is the one for you! This stunning landscape wallpaper is with a beautiful combination of the sunset and clouds, creating a very dreamy feeling while making the room feel more spacious. You can easily turn your space into a relaxing place with this pastel wallpaper in your bedroom, office, or living room where you'd want everyone to enjoy the view!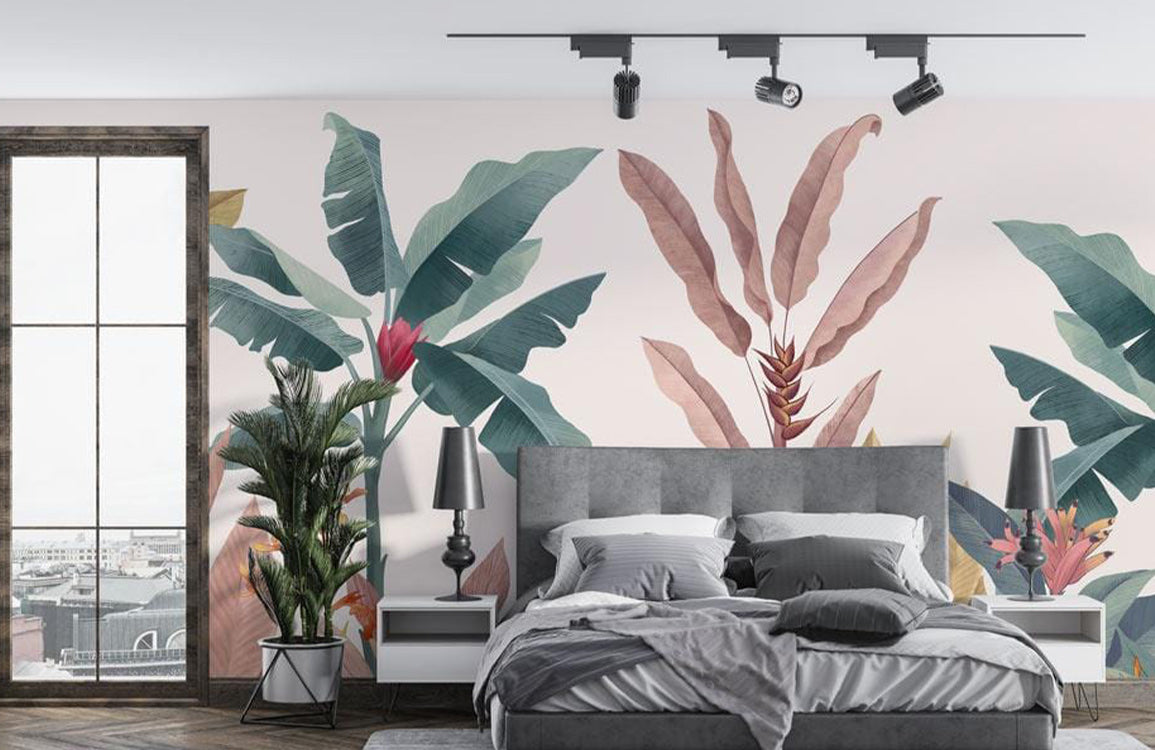 #7: Ins Leaves
If you're looking for ways to incorporate nature into your home decor, then this leaf wallpaper is definitely something you should consider adding to your design ideas. This design is a great way to add natural beauty and elegance to any space. It can also bring greenery into your home, but it doesn't have to be limited only to the outdoors. You can use it to transform your home into something completely different and unique every time you want to change up your interior design in your home, office, or shop.
Shop Now
Aesthetic Wallpapers: A Stylish Way to Transform Your Home Interior
A home is a place where individuals feel relaxed, spend time with family, and acquire privacy from their daily lives. It's a very personal space that needs to be filled with beauty and comfort to truly make it a home. That is why it is immensely important to design it with things that will not only spice it up but will also give you warmth and solace, regardless of what kind of taste you gravitate towards.
Aesthetic wallpaper design is the art of decorating a room with wallpapers to make it look stylish and classy. A good wallpaper can easily transform an ordinary room magnificently with no hassle and too much spending. There are so many beautiful patterns and designs available that can level up your home interior, making it an essential for every home.